Ngga selamanya traveling itu dapet yang indah-indahnya aja… terkadang, hal yang ngga diharapkan terjadi. But, itu justru yang bikin acara traveling unforgettable. Hehehe… here's some of them.
1.
Alasan kita pergi ke Milan adalah: we wanted to see THE LAST SUPPER painting. Leonardo Da Vinci's famous fresco.
Sampe di Piazza S. Maria delle Grazie… guess what teman-teman… ADVANCE BOOKING OBLIGATORY! Places are limited to 25 people every 15 minutes.
ARGGGHHH!!! and we didn't know that!!! It turned out… udah fully booked sampe tgl 2 Desember.
Uhuhuhu gini deh kalo ngga sempet survey!
Ya udah akhirnya kita ke gift shop-nya aja. Banyaaak banget buku-buku tentang Leonardo Da Vinci termasuk the Da Vinci Code! Selain banyak buku tentang Leonardo, banyak juga TURIS JEPANG yang selalu siaga buat foto-foto dimana saja. Hehehe…
Ps,
Kalo pengen liat The Last Supper, please click this FYI.
2.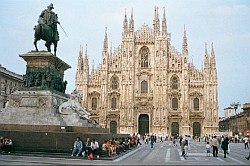 Trus kita naik metro menuju Duomo buat liat cathedral. Guess What? When we arrived… katedral yang seharusnya tampak seperti gambar di kiri ini… it looked like this…

ARRRGGGH!!!
3.
Then the day after… we went to Venice.
You know what?


November 25 WAS THEIR NATIONAL STRIKE!!!
OH GOD!
It's not over yet…
…
…
When we arrived in Rialto – Venice, IT WAS SNOWING!!!