1. soulmate.com , a debut novel by Jessica Huwae.
A story about love, hope, lost and everything in between.
jump to your nearest bookstore now!
novel pertama JESSICA HUWAE, senior editor SPICE! magazine sudah rilis. Congrats Jes!!! novelnya berjudul SOULMATE.COM.
bocoran dari Fira Basuki, novel Jessie ini keren banget! kata-katanya bagus. i haven't read it yet but i will never doubt her piece of work.
Judul: SOULMATE.COM
Penulis: Jessica Huwae
Penerbit: Gramedia
Harga: Rp 35.000
in my opinion… cover SOULMATE.COM ini KEREN bangeddd!!!
i'm going to gramedia today and buy this novel. can't wait… can't wait!

2. dua novel FIRA BASUKIakan segera rilis.
a. MISS B: Jangan Mati. Bocoran, serial MISS B akan diangkat menjadi sebuah serial di TV.
b. i think it's every writers' dream to have their books translated. JENDELA-JENDELA novel pertama FIRA BASUKI sudah ditranslasi dalam bahasa Inggris dengan judul WINDOWS.
3. novel saya dan adit akan di braille-kan!!! alhamdulillah, i'm so happy. there will be more people who will read our novels.
4. semalam saya dan suamigila menghadiri peluncuran novel terbaru DEWI 'DEE' LESTARI yang berjudul FILOSOFI KOPI di the piano bistro. seru banget! dan yang pasti penuh sampai susah parkir. semalam, dee-sita-marchell-candil & ari lingua nyanyi bareng. keren banget!
laporan lengkap ada di blog Pak Wimar Witoelar.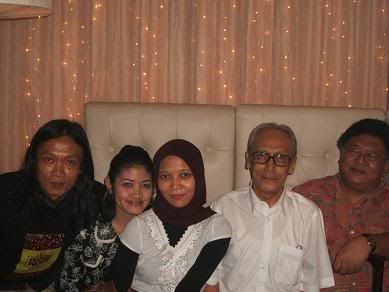 dan kejutan terbesar adalah, berkenalan dan foto bersama dengan PAK FUAD HASSAN (mantan menteri pendidikkan) dan juga WIMAR WITOELAR wow it's an honour! terima kasih mbak fira.